Abrams Falls
Something for Everyone!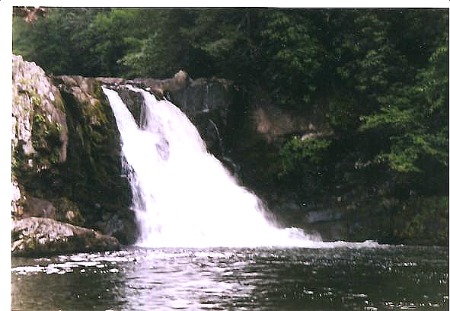 Choosing the best waterfall hike was a tough decision. I chose Abrams Falls because it's beautiful and doable for most. The falls make a 20' dive into a large pool. You'll definitely want to bring your camera.
It's 2.5 miles to the falls and you'll gain 340' in elevation. I had a hard time classifying this waterfall. I decided on the "fan" type because it gets wider as it drops and has a fan-like look to it.
---
Total Hike Length: 5 miles Approximate Elevation: Starts at 1700', falls are at 1500', fairly level overall
How to get to the trail: Located between posts #10 and #11 on Cades Cove Loop Rd. (one-lane, one-way, paved, open year-round, closed sunset to sunrise). Turn right on unpaved side road. Drive to parking area at the end.
---
Return from Abrams Falls to Waterfall Hikes

Return from Abrams Falls to Cades Cove