Camping
Your Best Bet For Enjoying All the Smokies Has to Offer!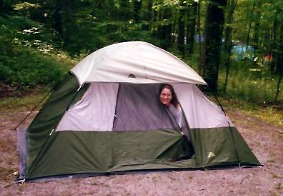 Why do I recommend camping as a great way to spend the night in the Smokies?
- To enjoy the outdoors! It's a great combination with hiking. The smell of the trees and the birds chirping all add to the Smoky Mountains experience.
-To
appreciate
what you have at home! We all take things for granted. You don't have all the little conveniences of home out in the wilderness. So, when you get back you appreciate them all the more.
- To spend quality time with your loved ones. Life can get so busy! So much so that we don't take the time to talk about the things that matter with the most important people in our lives. When you're away from home, you don't have the distractions of the TV and computer. Nothing against these things, but they can really take time away from the people in your life. You can get away from all that when you're in a tent and not in a hotel room:)
- It's the least expensive way to sleep! Even the cheapest motel can't beat sleeping under the stars in the Smokies!
- You're close to the hiking trails. Driving to trailheads can eat away the time you spend on the trails. This way you can be closer to the trails and sometimes not even have to drive to them!
---
Are you ready to pack up your tent and go?
There's some stuff you need to know first. Check out the links below for more info.

Campgrounds in the Smoky Mountains

Camping Tips


---
Return from Camping to Home Page