Fall Hiking
A Wonderful Time to
Hike the Smokies!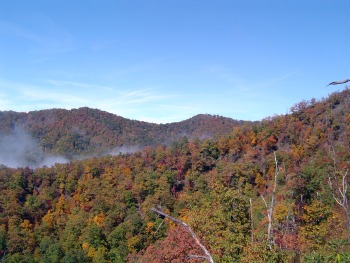 Fall hiking in the Smokies is a wonderful way to enjoy the cooler autumn days and beautiful leaf colors.
I usually go in October, but fall colors can begin as early as mid-September in the higher elevations.
Fall colors can be seen at elevations over 4,000' starting in early October. At the mid and lower elevations, autumn colors usually peak around mid-October to early November.
Since fall is such a beautiful time to visit the Smokies, it can also get quite busy. Keep that in mind when you're navigating busy spots like Cades Cove and Newfound Gap Rd.
While the daytime weather is usually in the 60s and 70s, keep in mind that the nights can get pretty chilly. There are times when it's been in the low 30s in October.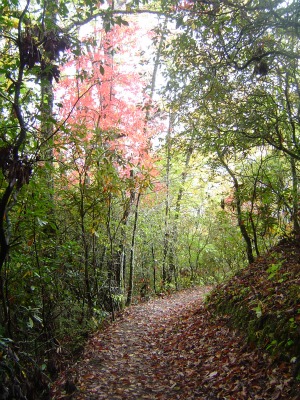 So, how exactly does this leaf changing happen?
I'll try keep it simple. Chlorophyll, which is what makes leave green, can only be made when the weather is warm enough and there's sufficient daylight.
As it cools down, chlorophyll production stops. Warm days and cool nights encourage production of sugars and anthocyanins (red, purple, and blue colors).
When a leaf gets ready to fall, sugars and pigments get trapped in the leaf blade, which is how fall colors result.
What determines the brightness of a leaf?
The more glucose the leaf has, the brighter the color.
While every fall season produces beautiful colors, there are certain weather conditions that make for an outstanding color show. The best weather for amazing fall colors are days of bright sunshine and cool, not freezing, nights. A low amount of rain helps too. Again, there are no bad color seasons, just some are better than others.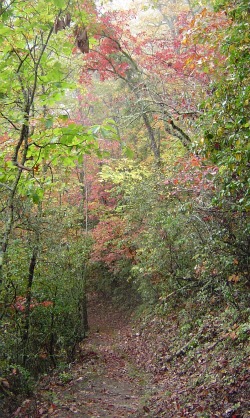 Great Fall Hikes
If you're visiting in mid-September through mid-October, try the higher elevation hikes.

Alum Cave to Mount LeConte

Gregory Bald

Mount Cammerer

Clingmans Dome

Hemphill Bald

Sugarland Mountain

Noland Divide

If you're visiting in mid-October through early November, seek out the lower elevation hikes.

Rich Mountain Loop

Cucumber Gap Loop

Abrams Falls

Schoolhouse Gap
---
Wherever you decide to go in the Smokies during the fall season, remember to reflect on the beauty God has given us and thank Him for giving us richly all things to enjoy (1 Timothy 6:17).

Return from Fall Hiking to Home Page