Family Hikes
Togetherness,
Nature, and Fitness!
Family hikes are a wonderful way to spend time with the most important people in our lives. With all the busyness of life, it's nice to just get away with those we love and spend time together. Hiking with family and friends gives us a chance to get fit and enjoy nature too. I know I've made some great memories with my family out on the trail.
While lots of hikes can be considered "family hikes," the hikes on this page are ones that are on the easy and short side.
---
Schoolhouse Gap This trail is actually a wide, gravel road. A stream runs along it and there are lots of wildflowers to see. It's located near the Townsend entrance and is 2.1 miles one-way. Remember you can always stop whenever you want and turn back for a shorter hike depending on the abilities of your hiking group.
---
Laurel Falls The main draw for this hike is the falls. It's also popular because it's paved. So, if you're toting babies or grandmas or handicapped folks they can see the falls too! This trail is near the Gatlinburg entrance and is 2.6 miles to the falls and back.
---
Grotto Falls What's so neat about this waterfall is you can walk behind it. Grotto Falls is on Trillium Gap Trail, off Roaring Fork Motor Nature Trail. It's near the Gatlinburg entrance and the hike is a total of 2.6 miles to the falls.
---
Metcalf Bottoms/Little Brier Gap There are lots of neat historical sites to see on these trails. You'll see a schoolhouse on Metcalf Bottoms and a cabin on Little Brier Gap. If you've got kids with you, maybe you could plan to teach a short lesson on black bears. Check out my page on black bears for info. These trails are between the Townsend entrance and Elkmont. The total hike length is 3.6 miles.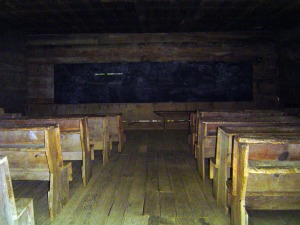 ---
Deep Creek Waterfalls Loop This 2.4-mile loop hike gives you the chance to see all 3 waterfalls in the Deep Creek area. The whole family will love this easy hike that also gives you the chance to enjoy hiking along Deep Creek.
---
Oconoluftee River Trail This is a great family hike along the river on the Cherokee side of the Smokies. The kids will love having access to the water and it's a gravel trail, so don't worry about slippery rocks. You can jog this one too or bring your dog along!
---
Kephart Prong What a pleasant river stroll! This wonderful family hike has wildflowers and a cascade. It's also only 2 miles one-way with a backcountry shelter at the end.
---
Hiking Tips for Familes
Here are some hiking tips in case you need a little help getting your family and friends out on the trail with you. :) Plus, these ideas can just make family hikes more enjoyable for kids.
Hiking is a great way to get your kids off the couch and spending time with you. Along with the basics, bringing along some extras for your hike will give your kids a thrill.
--Pedometers are a great way to motivate kids. They lend to competition among siblings to see who can rack up the most steps.
--Binoculars or a magnifying lens will get kids up close and personal with nature. They'll love examining all the creatures and leave along the trail.
--Trail mixes are an easy way to keep your kids from getting tuckered out on a hike. Mix in their favorite candy while still making it healthy with dried fruit, seeds, and nuts.
--Give your kids a notepad to make a scavenger hunt list. Then they can check off each discovery. Some things to include in their list: fallen petal, flower (even better, find out specific ones found on that trail), butterfly, bird, snail, frog, dragonfly, spider, ant, bee, and lizard.
--A great book to read with your kids is "Who Pooped in the Park?" by Steve Kemp. It will give your kids even more to look for on the trail! :) There are interesting animal facts throughout and a guide to tracks and scat at the end.
--An interesting activity out on the trail is "How Old is That Tree?" All it requires is a tape measure. Measure the circumference of a tree's trunk in inches. Since trees grow an average of one inch per year, a 40 inch trunk would mean the tree is about 40 years old.
--Who doesn't like a compliment? Let the kids know they're how well they're doing. Using positive reinforcement encourages them to keep on going! :)
--It's the little things that count. Bring their favorite snack or some other motivator/comfort to give them during a break in your hike.
--Have fun! While adults hike for the views, waterfalls, exercise, etc., kids want to stop and check out that caterpillar or splash around in the creek. Let them! While they're at it, why not join them?!
--Keep in mind that kids need more breaks than adults. Pay attention to their needs for a rest, drink, or food. They'll probably need to be reminded to stay hydrated.
Remember to bring a camera to capture the wonderful memories you make out on the hiking trail. Enjoy!!
---
What's Your Favorite Family Hike in the Smokies?
There are so many pleasant nature trails to hike in the Smokies. They're wonderful for bringing the kids or just strolling along with your sweetie. What's your favorite family hike?
---
Return from Family Hikes to Home Page