Loop Hikes
Always a New Sight to See!
Loop hikes are another type of hike offered in the beautiful Smoky Mountains and one of my favorite kinds to hike.
What's so great about loop hikes?
--There's always something new to see, because you're not returning on the same trail.
--You can also cover more ground and see more sights, because of this.
--There's no need for 2 cars or arranging for pick-up at the trail's end, because you return to the same place you started.
--Another bonus is if you have to cross something unpleasant, like a stream (in my opinion), when you cross it once, it's over and done with!
---
Cades Cove Loop This is a paved road that most people drive, but why not hike it? I did and found it to be a great way to enjoy all the historic sites of Cades Cove. It's 11 miles long, but you can shorten it to 8 miles by cutting across on Hyatt Lane.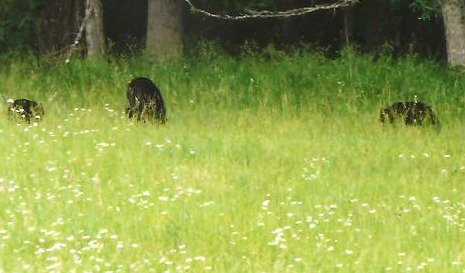 ---
Cucumber Gap Loop This is a great hike for those who like variety. You start off seeing some historic buildings on Jakes Creek. On Cucumber Gap you'll enjoy wildflowers and ridge hiking. You'll end with a pleasant stroll down Little River Trail with the soothing sounds of the river to carry you back to your car. It's a nice easy hike for the whole family. This hike is near Elkmont and the total length is 5.5 miles.
---
Rich Mountain Loop This 8.5-mile loop offers views, wildflowers, and some history. There's also a small waterfall as a bonus. It's a nice break from the crowds down at the Cades Cove Loop Road. There's a good dose of climbing, so bring plenty of water.
---
Deep Creek Waterfalls Loop This 2.4-mile loop hike gives you the chance to see all 3 waterfalls in the Deep Creek area. It's an easy hike that also gives you the chance to enjoy hiking along Deep Creek.
---
The longest footbridge in the park and access to a cascade and waterfall are the highlights of Smokemont Loop. This 6.1 mile loop hike is my favorite in the Smokemont area.
---
Return from Loop Hikes to Home Page