Long Hikes
Take a Hike on the Long Side!
Long hikes are a great way to spend the day outdoors in the beautiful Smokies. These hikes are just right for those looking for the ultimate challenge. For classification purposes, all of the hikes included on this page are 10 miles long or more.
---
Hemphill Bald/Cataloochee Divide This is my favorite hike in the Cataloochee area. Even though it's long (11.9 miles end to end), it's a moderate hike because it's not that steep. There's a stone table at Hemphill Bald, which makes a nice spot for a picnic. Along Cataloochee Divide, you get views of the valley along the park's border.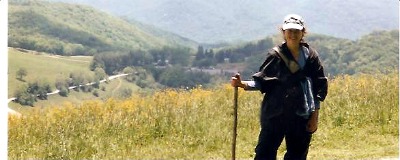 ---
Sugarland Mountain If you like quiet, wooded hikes this one's for you. We didn't see a single person the time we hiked it. If you're going to hike the whole thing, it's best to start at the top of the mountain, at the trailhead off Clingmans Dome Road, and hike down to Little River Rd.
---
Gregory Bald I think this is the best hike in Cades Cove. Although you're pretty much climbing the whole way, it's not overwhelmingly steep. Lots of wildflowers along the way. The views are spectacular at the bald. Definitely a must-hike! It's 11 miles round-trip.
---
Alum Cave to Mount LeConte This hike is an amazing adventure. The views are incredible. You might even come across some llamas along the way, like I did. It's 10 miles round-trip and the trailhead is located near Newfound Gap.
---
Mount Cammerer Located near Cosby campground, this hike takes you to a fire tower where you'll get 360º views (on a clear day:). It's an 11.4-mile hike there-and-back. If you're really up for a challenge, make it a loop hike for 16.1 miles.
---
Cades Cove Loop This is a paved road that most people drive, but why not hike it? I did and found it to be a great way to enjoy all the historic sites of Cades Cove. It's 11 miles long, but you can shorten it to 8 miles by cutting across on Hyatt Lane.
---
I've categorized Noland Divide as a long hike because it's 11.6 miles one-way. However, you could hike to a certain point (I recommend making it to Lonesome Pine Overlook) and return back for a shorter version. If you're in the Deep Creek area you must check it out!
---
Return from Long Hikes to Home Page