Cades Cove Loop
A Paved Pleasure!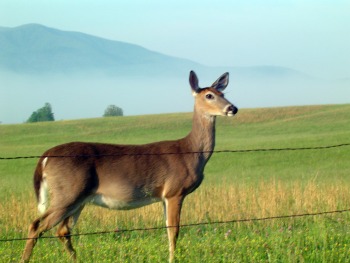 While Cades Cove Loop Road is paved and you can drive it, why not hike it? Slooooow down and really see all that this beautiful valley has to offer.
Here's what you'll see on Cades Cove Loop Road in the beautiful Great Smoky Mountains National Park.
John Oliver Place is your first stop on the right. You'll need to travel .25 miles to get to the cabin. It was built in the early 1820s making it the oldest log home in the cove.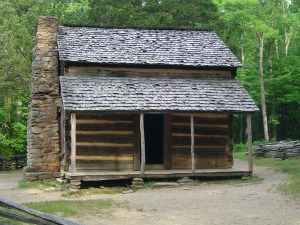 Primitive Baptist Church is the first of 3 churches in a row. It will be on your left. Hike .25 miles to get to it. Outside the church you'll see a sign telling it was organized in 1827.
When we visited, there was a church from Alabama having a men's retreat. We sat in on their lesson. What did we learn? Be rooted in Jesus, not like a suction cup just hanging on for dear life. When you're rooted in Christ, you'll withstand the trials and tribulations of life.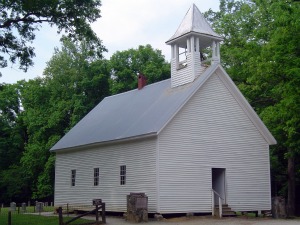 Methodist Church is next. It was built in 1902 in 115 days for $115!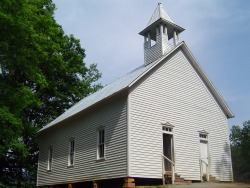 Missionary Baptist Church is the last church. It was formed in 1839 by a group of Baptists that were kicked out of the Primitive Baptist Church because they favored missionary work. The building is dated from 1915.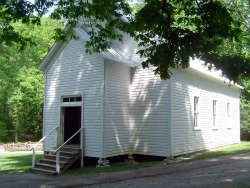 Elijah Oliver Place will be next on your right. It's a .5 mile walk to the site. You'll see a room added on to the front porch. It was built for housing overnight guests.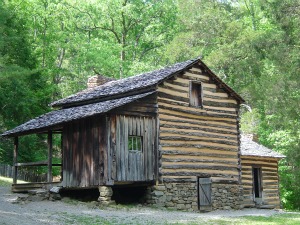 The Cable Mill includes a grist mill in addition to a blacksmith shop, cantilever barn, smokehouse, Gregg-Cable House, corn crib, barn, and sorghum mill. There is also a visitor center with bathrooms (only place on the loop road) and a gift shop.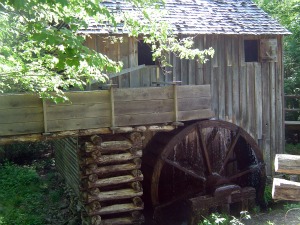 Dan Lawson Place was built in 1856. A granary and smokehouse are also on the site.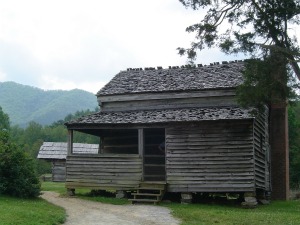 Tipton Place was built in the early 1870s. Other buildings you'll find on this historic site are a smokehouse, woodshed, and blacksmith shop. On the other side of the road opposite the cabin are a corn crib and cantilever barn. What's that? A cantilever barn is one that is counterweighted with overhanging beams.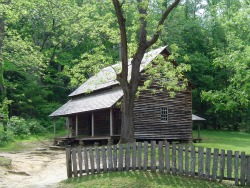 Carter Shields Cabin is the last stop on the Cades Cove Loop Road. Like many historic cabins you'll see in the Smokies, it has a loft. This is where the sons of the family usually slept.