Grotto Falls
Bring Your Umbrella!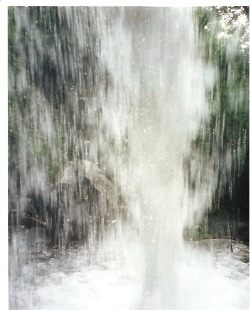 Each waterfall hike in the Smokies has something that makes it special. What makes Grotto Falls so unique? It's the only waterfall in the park you can walk behind!
It takes 1.3 miles hiking on Trillium Gap Trail to reach the 25' high falls. It's a pretty easy hike as you gain only 520' in the process.
I classify this waterfall as a plunge since it drops without sliding down the underlying rocks, allowing you to walk behind it.
---
Total Hike Length: 2.6 miles to the falls and back
Approximate Elevation: Starts at 3100' at Roaring Fork Motor Nature Trail. Trail ascends to 3600' at Grotto Falls.
How to get to the trail: Trail is located off Roaring Fork Motor Nature Trail (Gatlinburg). Drive to post #5 and park in Grotto Falls parking lot. Start hiking on Trillium Gap Trail.

Return from Grotto Falls to Waterfall Hikes