Kephart Prong
A Pleasant River Hike
Kephart Prong Trail described in one word? I'd have to say pleasant. It's a stroll along a branch of the Oconoluftee River with an incline you hardly notice. It's also an easily accessible trail being located off Newfound Gap Road. While you cross water several times there are footbridges so no worries getting wet.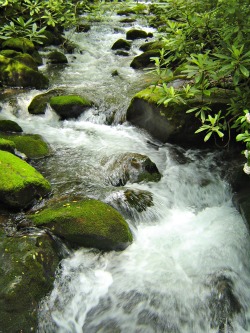 Along the way, enjoy wildflowers and a cascade. This hike is a great one to bring kids on too since it's easy and short- 4 miles total if you do the whole thing. If you decide to hike to the end, you can explore Kephart backcountry shelter.

Total Hike Length: 2 miles one-way
How to get to the trail: From Cherokee, NC entrance, follow Newfound Gap Road. Trailhead is 5 miles from Smokemont Campground. Look for a large footbridge with a parking area on your right.

Return from Kephart Prong to Newfound Gap